Solvay Peroxythai support "Forest park for the happiness of Thai people"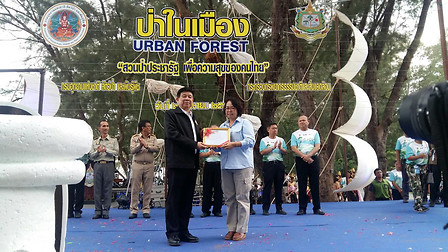 The Natural Resources and Environment Minister, General Surasak Karnjanarat granted a certificate of appreciation for Solvay Peroxythai's support given to Pracharat forest park for the happiness of Thai people project at Rayong Botanical Garden.
This project aims to develop 99 Pracharat forest parks nationwide within this year for the happiness of Thai people. Under the responsibilities of Department of National Parks, Wildlife and Plant Conservation, Royal Forest Department and Department of Marine and Coastal Resources which is in response to the government policy to develop forests in the urban areas so that people, especially children and youths, can study nature and have areas for recreational purposes that aligns with Solvay way concept to sustain social, societal, environmental and economic.