Solvay received CEO Halal Award in Thailand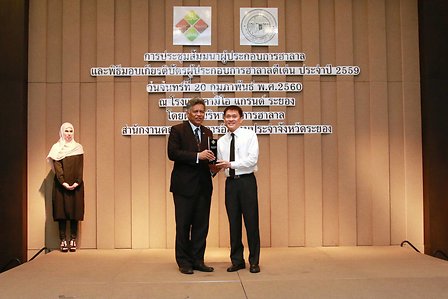 With the great collaboration between 2 Global Business Units in Thailand, Solvay Peroxythai was granted the 'CEO Award' by Dr. Surin Pitsuwan, a former ASEAN Secretary-General, during the Halal Business Seminar and 2016 Halal Certification Granting Ceremony held at Kameo Grand Hotel, Rayong on 20 February 2017.
'CEO Award' isa high credit-ability from the Halal Audit team that will provide to 5 companies withthe qualifications, skills and experience to consecutively perform the Halal audits. Solvay Peroxythai is one of the top five companies who received the CEO award for the first time among other companies from food industry.
"Good job and great result for the teams' collaboration! Solvay Peroxythai has been very well honored by nomination of the Thai Islamic Committee of Rayong. I have seen the works Solvay Peroxythai has done to get such a high credit-ability from the Halal Audit team. This is no surprise we are only among the top five who received the CEO award in Rayong. There will be another challenge for us in 2017 to well comply with the new stringent criteria from the Islamic Committee, which I believe we will be able to get another CEO award for 2017 again." Mr. Anupong Rongluengaram, Managing Director of Solvay Peroxythai said.
Currently, product of hydrogen peroxide and sodium bicarbonate can applies to halal food & beverage which have consistently growth at high annual rates. Halal market becomes one of our key markets. This award enhances the outstanding image of product and Solvay among a high competitive market and reassures customers the high quality and in accordance with Islamic doctrine.