Helmet Mascot draws children's eyes and hearts on "Safety on the Road"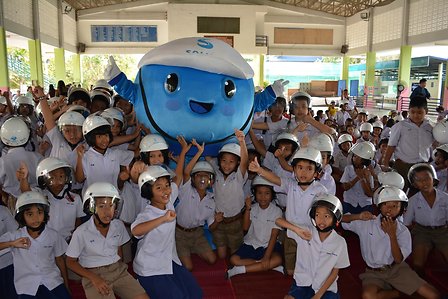 Educating children on "safety on the road" is still the mission of Solvay Group in Thailand and Siam Solvay Foundation. Cultivating safety behavior to children needs to deliver the same message through the new tool. Siam Solvay Foundation created a mascot to inform kids that wearing helmets is essential and can keep you safe. The mascot is a part of an effort by Solvay in Thailand to promote the road safety and helmet wearing in Rayong Community.
The mascot and dolls, gradually becoming a symbol of helmets for kids, have created children's smiles and laughters from 15 schools. . Behind the thousands smile of the kids is the dedication of our employees.
Kurisara Chitphan a woman from Technology Solution, Bangkok Site volunteered to wear the mascot without hesitation. She said "This mascot can make smile on the children face. Even through the temperature inside is a bit high, the return is the voice of laugh, smiles, and the need of children to take photo with mascot. The children curiosity made me laugh once they try to seek out who was wearing the mascot. I am so happy and ready to do whatever to make happiness to all."
"In the first place, being under the heavy and hot mascot suit was not very pleasant and I was thinking to myself that after 10 to 15 minutes would probably take it off. However, once I stepped out and face those sparks in the eyes of kids that they were so much interested and happy with the mascot, your fatigue suddenly disappeared. The best bit was when all the kids want to play, taking photo, or even hug you. There are times that they slammed to the mascot all together and almost flipped me, but that when I was happiest to see all the kids were so happy and lively. I cannot thank you enough for having me in the mascot and have me experience how sharing of happiness can make you even a happier person".Chaowarit Thunkhlai, GBU Peroxide.